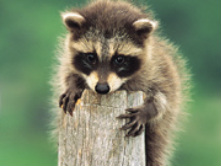 In their lives and their unspeakable deaths, these animals have been denied even the simplest acts of kindness."
CAAF is here because the fur industry has gotten its clutches back into the media and fashion shows. The alarming rise in fur sales is why we started. In our short time of existence, we are making an impact!As we have noted previously, extremist animal rights groups have stepped up their attacks on the fur industry as consumer interest in fur products has increased.... It should be noted that 85% of all U.S. fur retailers are small, independent, frequently family-owned businesses. On their own, these firms do not have the wherewithal to oppose concerted campaigns mounted by well-financed animal activists to embarrass furriers and destroy their livelihoods. (Fur Information Council website)Why Now? Why Here?
In 2001, U.S. retailers reported fur sales of $1.53 billion compared to ten years ago when the market reported $1.0 billion in sales.

New York remains the number 1 city in terms of fur sales. (Fur Information Council website)

Our History

CAAF was created in 2002.

Our first protest was February 14th, 2002 in front of Macy's and Lord and Taylor's in NYC. Over 50 people attended. We received media attention. Our protest was covered on the CBS Sunday morning edition and The Metro Channel.

Our second protest was on March 28th, 2002 in front of Steven Corn Furs on Route 17 in Paramus, NJ. We were on the front page of the local section of the Sunday edition of The Bergen Record.

Our Future

We have already been mentioned in fur industry publications. The furriers and their clients realize that the same anti-fur movement of the late 80's and early 90's that almost shut down their business is being re-awakened. But, we need you.

We need people who can give up a few hours once in a while to join us.Will you do that for the animals?
---